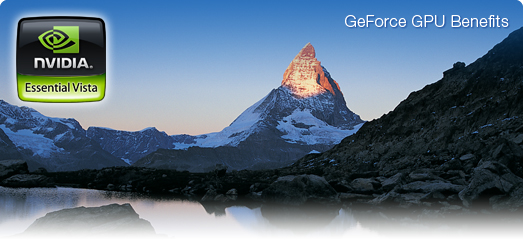 Windows Vista™ is the first Windows operating system that directly utilizes the power of a dedicated GPU (graphics processing unit). NVIDIA® GPUs are essential for accelerating the Windows Vista experience by offering an enriched 3D user interface, increased productivity, vibrant photos, smooth, high-definition videos, and realistic games.
Premium 3D User Experience

Drives the Windows Vista Aero user interface
Second processor for the PC dedicated to graphics, offloading the work from the CPU for better performance in multimedia-rich environments

Increased Productivity

Faster desktop response time and efficient multi-tasking
Instant access to multiple open windows
Support for multiple monitors

Crisp, Vibrant Photos

Unprecedented color clarity with NVIDIA Digital Vibrance Control™
Photo viewing and management in high-fidelity resolutions

Smooth, High-Definition Videos

Ultra-smooth HD DVD and Blu-ray™ Disc playback with NVIDIA PureVideo™ HD technology
Easy output to your TV or HDTV

Ultra-realistic Games

Accelerates the latest standards in 3D
Unparalleled performance
Stability, reliability and compatibility
For a complete list of NVIDIA solutions for Windows Vista, please visit our
Solutons page.
Windows and Windows Vista are either registered trademarks or trademarks of Microsoft Corporation in the United States and/or other countries. Last updated 9/31/2006.