Quadro Solution Benefits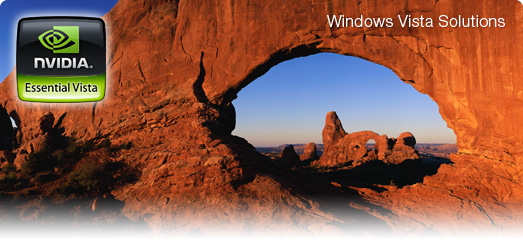 Windows Vista was designed to help users easily view, find, and organize information through a 3D user experience. NVIDIA® has ensured that its consumer, mobile, professional, and workstation products will support the best Windows Vista experience for its customers.

NVIDIA solutions take full advantage of Windows Vista features and functionality. When coupled with NVIDIA products, Windows Vista provides enhanced user productivity, crisp vibrant photos and videos, and data security for peace of mind.


Desktop:


GeForce GTX 295
GeForce GTX 285
GeForce GTX 280
GeForce GTX 275
GeForce GTX 260
GeForce GTS 250
GeForce GTS 240 *
GeForce GT 240
GeForce GT 220
GeForce G 210
GeForce 205*
GeForce 310*
GeForce GTS 150*
GeForce GT 130*
GeForce GT 120*
GeForce G 100*
GeForce 9800 GX2
GeForce 9800 GTX+
GeForce 9800 GTX
GeForce 9800 GT
GeForce 9600 GT
GeForce 9600 GSO
GeForce 9500 GT
GeForce 9400 GT
GeForce 8800
GeForce 8600
GeForce 8500
GeForce 8400
GeForce 7950
GeForce 7900
GeForce 7800
GeForce 7600
GeForce 7500
GeForce 7400
GeForce 7350
GeForce 7300
GeForce 7200
GeForce 7100
GeForce 7050
GeForce 7025
GeForce 6800
GeForce 6700
GeForce 6600
GeForce 6500
GeForce 6200
GeForce 6100/6150

Motherboards for AMD-based Discrete PCs:

NVIDIA nForce 980a SLI
NVIDIA nForce 780a SLI
NVIDIA nForce 750a SLI
NVIDIA nForce 740a SLI
NVIDIA nForce 730a SLI
NVIDIA nForce 720a SLI
NVIDIA nForce 720D
NVIDIA nForce 680a SLI
NVIDIA nForce 590 SLI
NVIDIA nForce 570 SLI
NVIDIA nForce 570 LT SLI
NVIDIA nForce 570 Ultra
NVIDIA nForce 560 SLI
NVIDIA nForce 560
NVIDIA nForce 550
NVIDIA nForce 520
NVIDIA nForce 520 LE
NVIDIA nForce 500 SLI
NVIDIA nForce 500 Ultra
NVIDIA nForce 500
NVIDIA nForce4 SLI X16
NVIDIA nForce4 SLI
NVIDIA nForce4 Ultra
NVIDIA nForce4



Motherboards for Intel-based Discrete PCs:

NVIDIA nForce 790i Ultra SLI
NVIDIA nForce 790i SLI
NVIDIA nForce 780i SLI
NVIDIA nForce 750i SLI
NVIDIA nForce 730i SLI
NVIDIA nForce 680i SLI
NVIDIA nForce 680i LT SLI
NVIDIA nForce 650i SLI
NVIDIA nForce 650i Ultra
NVIDIA nForce 630i
NVIDIA nForce 590 SLI
NVIDIA nForce 570 SLI
NVIDIA nForce4 SLI X16
NVIDIA nForce4 SLI
NVIDIA nForce4 SLI XE
NVIDIA nForce4 Ultra

Motherboard GPUs:

GeForce 9400
GeForce 9300
GeForce 8300
GeForce 8200
GeForce 8100
GeForce 7150
GeForce 7050
GeForce 7025
GeForce 6150
GeForce 6100
NVIDIA Business Platform
NVIDIA Quadro NVS 210S



Motherboard for Notebooks
"Windows Vista Ready:�?

NVIDIA nForce 610M/630M
NVIDIA nForce4 SLI
NVIDIA nForce Go 410
NVIDIA nForce Go 430




Handheld Solutions:

NVIDIA Preface

Notebook:

GeForce GTS 360M
GeForce GTS 350M
GeForce GT 335M
GeForce GT 330M
GeForce GT 325M
GeForce 310M
GeForce 305M
GeForce GTX 285M
GeForce GTX 280M
GeForce GTX 260M
GeForce GTS 260M
GeForce GTS 250M
GeForce GTS 160M
GeForce GTS 150M
GeForce GT 240M
GeForce GT 230M
GeForce GT 130M

GeForce G 210M
GeForce G 110M
GeForce G 105M
GeForce 9800M GTX
GeForce 9800M GT
GeForce 9800M GTS
GeForce 9700M GTS
GeForce 9700M GT
GeForce 9650M GT
GeForce 9650M GS
GeForce 9600M GT
GeForce 9600M GS
GeForce 9500M GS
GeForce 9500M G
GeForce 9300M GS
GeForce 9300M G
GeForce 9200M GS
GeForce 9100M G
GeForce 8700M
GeForce 8600M
GeForce 8400M
GeForce Go 7900
GeForce Go 7800
GeForce Go 7600
GeForce Go 7400
GeForce Go 7300
GeForce Go 7200
GeForce Go 6800
GeForce Go 6600
GeForce Go 6400
GeForce Go 6200
GeForce 7000M/7150M
GeForce Go 6100/6150

NVIDIA Quadro NVS 320M
NVIDIA Quadro NVS 140M
NVIDIA Quadro NVS 135M
NVIDIA Quadro NVS 130M
NVIDIA Quadro NVS 300M
NVIDIA Quadro NVS 120M
NVIDIA Quadro NVS 110M


Professional:

NVIDIA Quadro FX 5800
NVIDIA Quadro FX 5600
NVIDIA Quadro FX 5500
NVIDIA Quadro FX 5500 SDI
NVIDIA Quadro FX 4800
NVIDIA Quadro FX 4700 X2
NVIDIA Quadro FX 4600
NVIDIA Quadro FX 4500 X2
NVIDIA Quadro FX 4500
NVIDIA Quadro FX 4500 SDI
NVIDIA Quadro FX 3800
NVIDIA Quadro FX 3700
NVIDIA Quadro FX 3500
NVIDIA Quadro FX 3450
NVIDIA Quadro FX 3400
NVIDIA Quadro FX 3000
NVIDIA Quadro FX 1800
NVIDIA Quadro FX 1700
NVIDIA Quadro FX 1500
NVIDIA Quadro FX 580
NVIDIA Quadro FX 570
NVIDIA Quadro FX 560
NVIDIA Quadro FX 550
NVIDIA Quadro FX 470
NVIDIA Quadro FX 380
NVIDIA Quadro FX 380LP
NVIDIA Quadro FX 370
NVIDIA Quadro FX 370 Low Profile
NVIDIA Quadro FX 350

NVIDIA Quadro FX 3700M
NVIDIA Quadro FX 3600M
NVIDIA Quadro FX 2700M
NVIDIA Quadro FX 1700M
NVIDIA Quadro FX 1600M
NVIDIA Quadro FX 770M
NVIDIA Quadro FX 570M
NVIDIA Quadro FX 370M
NVIDIA Quadro FX 360M

NVIDIA Quadro NVS 450
(PCIe x16 version)
NVIDIA Quadro NVS 440
(PCIe x16 version)
NVIDIA Quadro NVS 420
(PCIe x16 version)
NVIDIA Quadro NVS 295
(PCIe x16 version)
NVIDIA Quadro NVS 290
(PCIe x16 version)
NVIDIA Quadro NVS 285
(PCIe x16 version)
NVIDIA Quadro NVS 280