Enthusiast
Fueling the Inferno
Introducing the GeForce PCX 5900: Enthusiast-Class PCI Express GPUs
Fire up your gaming with the most powerful members of the NVIDIA® GeForce™ FX and GeForce PCX families. Delivering blazing speeds, ultra-high resolutions, cinematic gaming effects, unmatched features, and rock-solid stability, the GeForce FX and GeForce PCX 5900 GPUs ignite PC gaming.



Powered by the NVIDIA CineFX™ 2.0 engine with the industry's only true 128-bit precision processing--the GeForce FX and GeForce PCX 5900 GPUs take cinematic-quality special effects to new levels while providing the industry's most compatible and reliable gaming platform.

Available Enthusiast Models:
GeForce FX 5950 Ultra
GeForce FX 5900 Ultra
GeForce FX 5900
GeForce FX 5900 XT
GeForce PCX 5950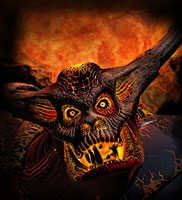 GeForce FX
5950 Ultra
Graphics Core:
Memory Interface:
Memory Bandwidth:
Fill Rate:
Vertices/sec.
Memory Data Rate:
Pixels per Clock (peak):
Textures per Pixel:
RAMDACs

256-bit
256-bit
30.4GB/sec
3.8 billion texels/sec.
356 million
950MHz
8
16*
400MHz


*Maximum in a single rendering pass with 8 textures applied per clock.


GeForce FX: The way it's meant to be played

Game developers know that NVIDIA GPUs have the technology and features to power their 3D effects, and that's why on today's hottest games you will find the NVIDIA "The way it's meant to be played" seal. With a GeForce FX powering your games, you'll have the graphics processing power needed to unleash stunning 3D worlds and the most life-like character animations ever seen in interactive entertainment. So, shouldn't you be playing your games the way they're meant to be played?





CineFX 2.0 Engine
Powers cinematic effects beyond imagination. With advanced vertex and pixel shader capabilities, stunning and complex special effects are possible. In addition, increased horsepower delivers faster and smoother gameplay. The 2nd-generation CineFX 2.0 engine—available with GeForce FX 5900 and 5700 GPUs and GeForce PCX 5950 and 5750 GPUs—powers more advanced pixel shaders.
Intellisample Technology
The industry's fastest and highest quality antialiasing delivers ultra-realistic visuals, with no jagged edges, at lightning-fast speeds. The 2nd-generation Intellisample HCT—supported in the GeForce FX 5900 and 5700 GPUs and the GeForce PCX 5950 and 5750 GPUs—extends performance and quality gains to higher resolutions and antialiasing levels.
UltraShadow Technology
Powers the next-generation of complex, realistic shadow effects by accelerating shadow generation. Accurate shadows that effectively mimic reality without bogging down frame rates are one of the keys to more believable game environments.



GeForce FX 5900 Videos
See the new GeForce FX Demo Collage, the GeForce 5900 Experience and GeForce 5900: The Way it's Meant to be Played.