Girl power in e-sport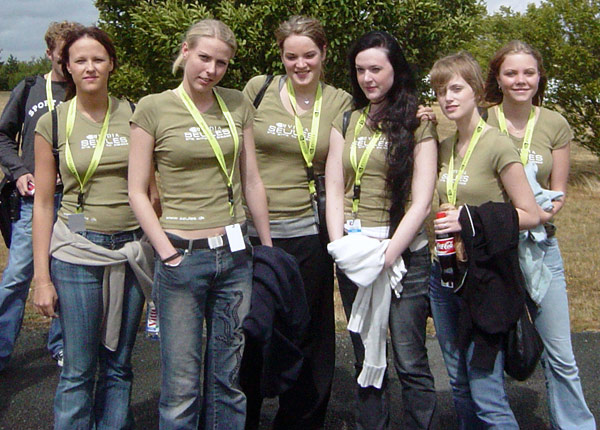 The women's Counter Strike Masters competition promises to be an eye-opener during ESWC 2004. Given the incredible leaps and bounds we've seen in the gaming level of the female gamers selected, we decided to take a closer look at what is easily the most promising team in this competition: Les Seules. Don't be fooled by the peculiar name: somehow, you get the feeling these girls will give their all to make their mark.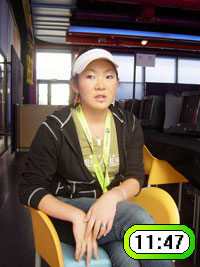 aNNa tells us about
the team's formation
These seven girls are basically the focus of attention in the competition. Easy to see why, when aNNa explains that this half-Danish, half-Swedish team is made up of members from the two finalist teams from last year. Nevertheless, the team is the result of a chance occurrence. These girls were all given the boot from their various line-ups and decided to form their own team. It was with a special touch that they chose the French name for their team, this being the language of the organising country of the ESWC.
But as aNNa tells us, the existence of this team has occasionally been precarious, since it's sometimes difficult for these young women to find a balance between their studies and high-level gaming competition – not to mention the extremely tough task of winning sponsors to their cause. This is why NVIDIA's support means so much to them. They understood exactly where we were coming from, she says.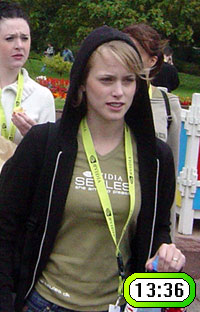 Sophie is ready to take them on
Soon the rest of the team heads for the Kadeliscope, where the matches take place. Les Seules have a tough day ahead of them, because despite the previous day's victory over Portugal's FRAGLider girls, there remains a lot of hard work before they can conquer their group. By way of preparation, les Seules play a few training matches against other girl gamers. The results are encouraging, but English girl team SCEE have other plans and our lady champions will not be leaving anything to chance. Depending on conditions, and so they can best adapt their strategy to requirements, Les Seules select five members to contend the match whilst a sixth member takes on the role of coach. Today it's Zelena's turn, while Queen* announces the tactics at the start of each game phase. During matches, coordination is vital and it's important to have this two-level structure in place to have a clear overall viewpoint whilst still being able to alter formation rapidly in line with the reactions of your opponent.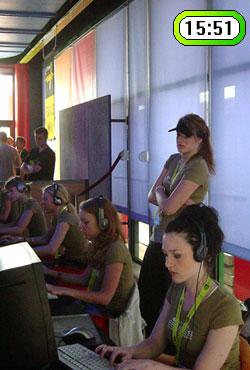 Vixen is watched over by Zelena
When the final tactical details have been fine-tuned, the match gets under way. A large crowd of spectators has come to see our champions in action and see them lose the first few games. But les Seules quickly get on top of things and Sophie's precision performs wonders. English team SCEE see their opponents fire on all guns and in the first round they can only quail under the onslaught, which finishes with an undisputed score of 9 to 3.
The SCEE reaction during the first game isn't enough to rattle Les Seules and they quickly notch up the four points that stand between them and victory.
After this pretty promising result of 13 - 4, the girls still have their misgivings. There were two occasions when their opening tactics, during the vital gun rounds*, didn't come off. This will have to be reviewed for the evening's encounter, one which could well prove to be a more difficult match.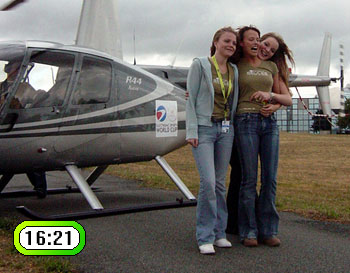 Malin Queen* and Zelena, still a bit shaky at the knee
Right now, however, it's time for the ladies to make the most of their star status, because they have been invited to take their first helicopter flight over the Futuroscope venue. The weather hasn't been at its best all day and the violent wind does nothing for the team's nerves. But soon enough, nervousness turns into amazement.
All too soon, however, it's time to return to terra firma and start focusing on the upcoming match. Les Seules' opponent for the evening will be the Brazilian team, who have also chalked up two victories. So the two line-ups are on an equal footing for the next relegation round, but Les Seules have got themselves an easier group. This particular showdown will be taking place on the big stage, so we can see why the tension is gradually mounting.
Aurora after the victory over LadieS.AMD
Les Seules have the advantage of having gained experience competing under this kind of pressure at the ladies' Counter Strike Masters at ESWC 2003. It only remains to be seen whether the Brazilians, LadieS.AMD, are as cool under pressure. We're soon breathing easy as the gun rounds* are secured by Les Seules. But we were reckoning without the fighting spirit of the Brazilians, who mount an awesome comeback in the second round. An amazing tactical move comes into play in an eco-round* before Les Seules finally win through with a score of 13 - 9.