NVIDIA Tesla P100
Infinite Compute Power for the Modern Data Center


THE WORLD'S FIRST AI SUPERCOMPUTING DATA CENTER GPU
Artificial intelligence for self-driving cars. Predicting our climate's future. A new drug to treat cancer. Some of the world's most important challenges need to be solved today, but require tremendous amounts of computing to become reality. Today's data centres rely on many interconnected commodity compute nodes, limiting the performance needed to drive important High Performance Computing (HPC) and hyperscale workloads.
NVIDIA ® Tesla ® P100 GPU accelerators are the world's first AI supercomputing data center GPUs. They tap into NVIDIA Pascal™ GPU architecture to deliver a unified platform for accelerating both HPC and AI. With higher performance and fewer, lightning-fast nodes, Tesla P100 enables data centers to dramatically increase throughput while also saving money.
With over 450 HPC applications accelerated—including 10 out of top 10—as well as all deep learning frameworks, every HPC customer can deploy accelerators in their data centers.
TESLA P100 WITH NVLINK DELIVER UP TO 50X PERFORMANCE BOOST FOR DATA CENTRE APPLICATIONS

NVIDIA TESLA P100 ACCELERATOR FEATURES AND BENEFITS
The Tesla P100 is reimagined from silicon to software, crafted with innovation at every level. Each groundbreaking technology delivers a dramatic jump in performance to inspire the creation of the world's fastest compute node.

Exponential Performance Leap with Pascal Architecture
The NVIDIA Pascal™ architecture enables the Tesla P100 to deliver superior performance for HPC and hyperscale workloads. With more than 21 TeraFLOPS of FP16 performance, Pascal is optimized to drive exciting new possibilities in deep learning applications. Pascal also delivers over 5 and 10 TeraFLOPS of double and single precision performance for HPC workloads.

Applications at Massive Scale with NVIDIA NVLink
Performance is often throttled by the interconnect. The revolutionary NVIDIA NVLink™ high-speed bidirectional interconnect is designed to scale applications across multiple GPUs by delivering 5X higher performance compared to today's best-in-class technology.
Note: this technology is not available in Tesla P100 for PCIe.

Unprecedented Efficiency with CoWoS with HBM2
The Tesla P100 tightly integrates compute and data on the same package by adding CoWoS ® (Chip-on-Wafer-on-Substrate) with HBM2 technology to deliver 3X memory performance over the NVIDIA Maxwell™ architecture. This provides a generational leap in time-to-solution for data-intensive applications.

Simpler Programming with Page Migration Engine
Page Migration Engine frees developers to focus more on tuning for computing performance and less on managing data movement. Applications can now scale beyond the GPU's physical memory size to virtually limitless amount of memory.
CoWoS is a registered trademark of Taiwan Semiconductor Manufacturing Company Limited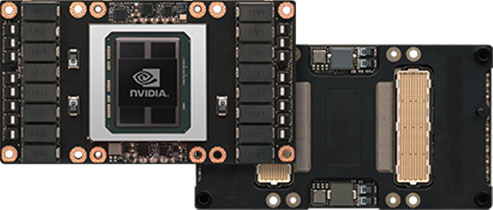 NVIDIA Tesla P100 for
Strong-Scale HPC
Tesla P100 with NVIDIA NVLink technology enables lightning-fast nodes to substantially accelerate time-to-solution for strong-scale applications. A server node with NVLink can interconnect up to eight Tesla P100s at 5X the bandwidth of PCIe. It's designed to help solve the world's most important challenges that have infinite compute needs in HPC and deep learning.
NVIDIA Tesla P100 for
Mixed-Workload HPC
Tesla P100 for PCIe enables mixed-workload HPC data centres to realise a dramatic jump in throughput while saving money. For example, a single GPU-accelerated node powered by four Tesla P100s interconnected with PCIe replaces up to 32 commodity CPU nodes for a variety of applications. Completing all the jobs with far fewer powerful nodes means that customers can save up to 70% in overall data centre costs.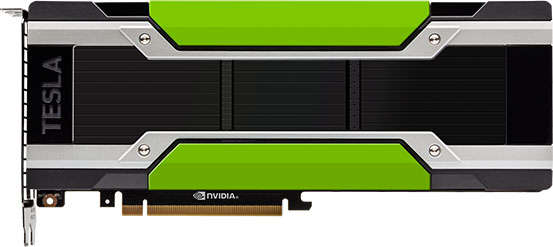 PERFORMANCE SPECIFICATION FOR NVIDIA TESLA P100 ACCELERATORS
P100 for PCIe-Based
Servers
P100 for NVLink-Optimised Servers
Double-Precision Performance
4.7 TeraFLOPS
5.3 TeraFLOPS
Single-Precision Performance
9.3 TeraFLOPS
10.6 TeraFLOPS
Half-Precision Performance
18.7 TeraFLOPS
21.2 TeraFLOPS
NVIDIA NVLink™ Interconnect Bandwidth
-
160 GB/s
PCIe x16 Interconnect Bandwidth
32 GB/s
32 GB/s
CoWoS HBM2 Stacked Memory Capacity
16 GB or 12 GB
16 GB
CoWoS HBM2 Stacked Memory Bandwidth
732 GB/s or 549 GB/s
732 GB/s
Enhanced Programmability with Page Migration Engine
ECC Protection for Reliability
Server-Optimised for Data Centre Deployment
NVIDIA TESLA P100 PRODUCT LITERATURE









Get the NVIDIA
Tesla P100 Today
The Tesla P100 is available in the NVIDIA ® DGX-1™ system—purpose-built for deep learning.
Where To Buy
Tesla
Find Systems Powered By NVIDIA
Tesla GPUs.