>
>
>
>
GeoInt Accelerator


NVIDIA GeoInt Accelerator, Faster Insights for the Geospatial Intelligence Analyst
GPU accelerators run Geospatial Intelligence (GeoInt) applications 10x faster over CPU-only solutions. Acceleration enables new image and video processing capabilities:
Faster processing of large volumes of imagery from satellite and UAVs.
Real-time object and face recognition in full-motion video.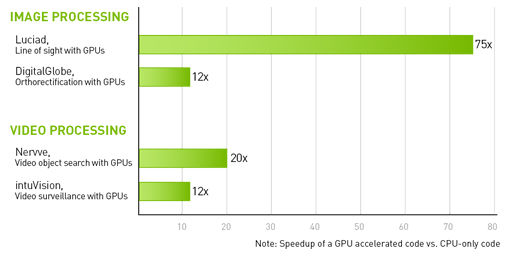 Ready to start developing?
Applications on GPUs
Several GeoInt applications are already GPU accelerated delivering results more than 10x faster.




Run your application on GPUs:
Speed up your application by getting started with parallel programming on GPU accelerators.