>
>
>
>
Siemens PLM Software


DELIVER CUTTING-EDGE DESIGNS FASTER WITH NVIDIA GPUs
Model data sets for manufacturing companies are continually increasing in size and complexity. In addition, advances in technology such as affordable 4K monitors that facilitate 3D CAD workflows, and the emerging use of virtual reality in professional design, mean that designers and engineers using Siemens PLM design tools expect ever more powerful and reliable graphics performance.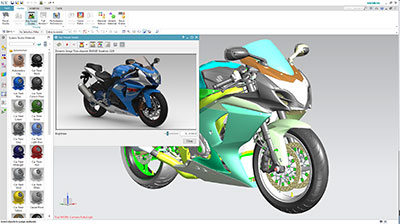 With the recent native integration of NVIDIA Iray rendering in NX Ray Traced Studio, Siemens NX users can now access NVIDIA's physically based rendering technology to predictably visualize design modifications in real-time, so they can view early in the design process how products will look in real life.The new Quadro GV100 now offers unparalleled rendering speed for the fastest interactive visualization of complex, photoreal scenes.
NVIDIA professional graphics solutions and Siemens PLM software give you the power to deliver cutting-edge designs while meeting the most challenging deadlines—whether your expertise is aerospace, automotive, energy, marine, machinery, or consumer products.
These NVIDIA solutions are thoroughly tested, certified, and recommended by Siemens PLM Software. This testing and certification process guarantees optimum performance from an incredibly stable and reliable platform from day one.
Boost your productivity and discover new levels of interactive realism and rendering with NVIDIA Quadro professional graphics cards in your workstation or NVIDIA GRID™ for virtual environments.
Performance
NVIDIA® solutions provide fast 3D graphics performance enabling you to quickly Visualise and interact with complex designs. You can easily explore iterations using different design scenarios and materials in real-time to be confident that your final design is the best design. NVIDIA Quadro GPUs are available for laptops, workstations, and remote server platforms for virtualized environments.
Many products consist of hundreds or even thousands of individual components, so NVIDIA solutions with ultra-large graphics memory enable you to interact with extremely large assemblies, with more components. You can manipulate more surfaces and materials than ever before letting you make design decisions, while reviewing the individual components in context of the full product.
And with increasing adoption of 4K displays and virtual reality technology for design visualization, the need for the reliability and power of Quadro GPUs continues to grow in importance.
For Desktop Workstations

For Mobile Workstations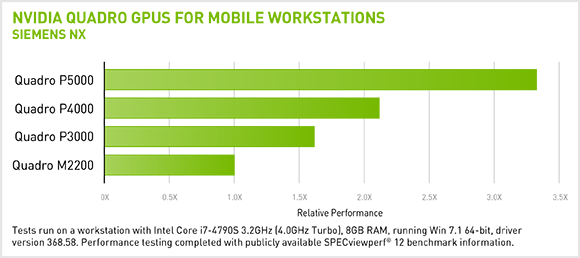 Visualisation
HIGHER QUALITY DESIGNS
Siemens PLM software coupled with NVIDIA professional graphics solutions make real-time visualization and sophisticated rendering valuable assets for everyone involved in the product development process.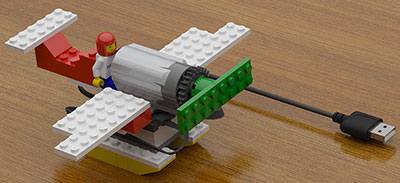 NX Ray Traced Studio photorealistic rendering offers the most realistic, interactive rendering style. It takes advantage of NVIDIA Quadro GPU technology to speed up rendering, giving you fast, yet compelling results. The new Quadro GP100 provides unrivaled rendering speed for the fastest interactive visualization of complex, photoreal scenes. With Iray rendering now natively integrated in NX Ray Traced Studio, Siemens NX users can access NVIDIA's latest physically based rendering technology to predictably visualize in real-time how design modifications will look in real life. This also means designers can now leverage NVIDIA Iray Server distributed rendering software to reduce further the time needed to create photo-real images by scaling Iray rendering across all network-connected workstations.
Even though NX Ray Traced Studio uses sophisticated ray traced rendering techniques, it's easy to use with scene environments and materials provided for you as well as a dedicated rendering task environment. With NX Ray Traced Studio you can easily interact with a realistic depiction of your model, while you select materials, environment and even while you make changes to the model itself.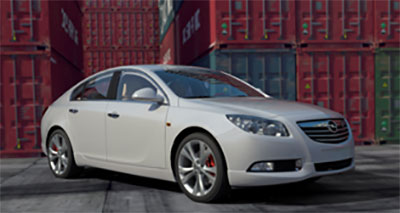 Reduce product design decision uncertainty by using NX Ray Traced Studio to generate interactive, photorealistic views of your complex designs. NVIDIA GPU performance lets you incorporate high-quality, real-time reviews in your workflow for faster decision-making with key stakeholders, shortening your time to production.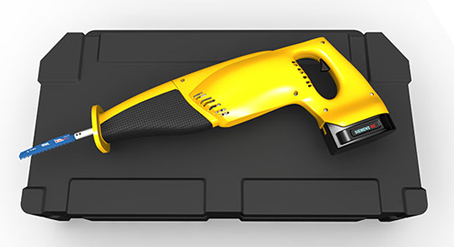 NX rendering virtual prototyping fosters a better understanding and communication of product aesthetics early in the process, accelerating the design cycle. Using digital images and display produced by NX rendering throughout the process helps bring your products to market faster.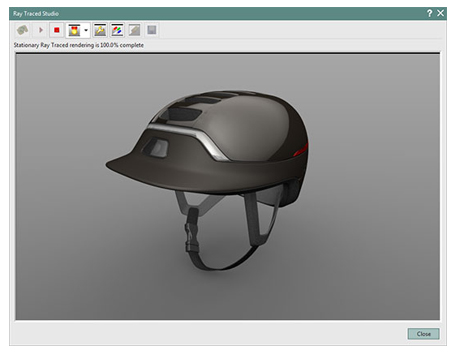 NVIDIA professional graphics provide reduced visual artifacts, helping you to refine the most intricate design details without sacrificing performance. See your designs with smooth, accurate edges as NVIDIA Quadro full scene anti-aliasing (up to 128X) removes jagged edges in real-time.
Productivity
MORE PRODUCTIVE WORKFLOW
Siemens NX users demand a great visual experience when working with their design and engineering tools. Until recently, the benefits of virtualization weren't accessible to designers and engineers at manufacturing companies because a satisfactory user experience with their 3D graphics-intensive product design software simply wasn't possible. Now, with NVIDIA GRID™ technology, Siemens NX users can leave behind unacceptable levels of lag and display degradation and fully leverage all the benefits of accelerated 3D graphics virtualization.
In addition, NVIDIA GRID graphics processing units (GPUs) and NVIDIA drivers are fully tested and supported by Siemens PLM Software in a virtualized environment. This process validates that Siemens NX and Siemens Teamcenter Visualization users get the same graphics performance and experience in a virtualized environment, as they would expect from their PC or workstation.
Now, the latest generation of GRID technology is further expanding the capabilities of accelerated virtual desktops with significant improvements in performance and user density. Siemens users can be even more productive—from any device, anywhere, anytime. Find out more.
Help me choose
FIND THE RIGHT SOLUTION FOR HOW YOU USE SIEMENS PLM SOFTWARE
Whether your workflow includes desktop, mobile, or virtual workstations, NVIDIA has a solution for you.
NVIDIA has a history of the industry's best performance on leading Design and Manufacturing applications. This includes:
Recommended Graphics Solutions for Siemens PLM
CERTIFIED AND RECOMMENDED GPUS
Desktop
Quadro M4000
8 GB
1,664 NVIDIA® CUDA® Cores
Quadro M2000
4 GB
768 NVIDIA® CUDA® Cores
Mobile
Quadro M4000M
Quadro M3000M