Quadro for Virtual Reality
Recommended Systems

NVIDIA VR READY
Virtual reality requires the highest-performance graphics to deliver the smoothest, most immersive experiences. To ensure professional users have the best VR experiences, we've created the NVIDIA VR Ready program.
Look for the NVIDIA VR Ready badge to ensure your system is built to provide the best VR experience.
DESKTOP SYSTEM COMPONENTS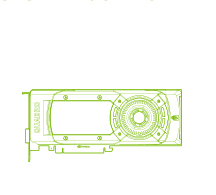 GPU
NVIDIA Quadro® M5000,
M6000 or M6000 24GB
+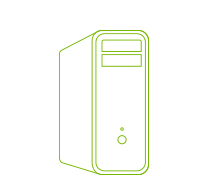 CPU
Intel® i5-490 /
Xeon E3-1240 v3 or greater
+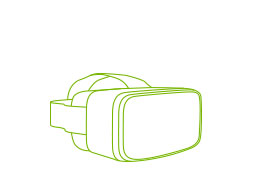 HMD
HTC Vive (Recommended);
Oculus Rift
Video Adapter: DisplayPort to HDMI 1.4 or DVI to HDMI 1.4
USB Ports: USB 2.0 x 1 (HTC Vive) or USB 2.0 x 1 + USB 3.0 x 3 (Oculus Rift);
additional USB ports optional for game pads and other peripherals
Operating System: Windows 7 SPI (64 bit) or higher
Memory/RAM: 8GB+ RAM
Multi-GPU System: SLI certification recommended
VR READY WORKSTATIONS
NVIDIA is partnering with HP and other solution providers to offer a broad collection of workstations that are NVIDIA VR Ready.
Note: to provide VR, all workstation configurations require an HMD (sold separately), and a DisplayPort 1.2 to HDMI 1.4 type II adapter or a DisplayPort to miniDisplayPort cable (both sold separately).
HP Z240 Quick Specs
Processor
Intel® Xeon® processor E3-1270v5
Memory
RAM 16GB (2x8GB)
Storage
OS HP 256GB SATA 6Gb/s SSD + Data HP 512GB SATA 6Gb/s SSD
GPU
NVIDIA Quadro M5000
OS
Windows 10
HP Z640 Quick Specs
Processor
Intel Xeon E5-1630 v3 processor
Memory
RAM 32GB (4x8GB)
Storage
OS HP 256GB SATA 6Gb/s SSD + Data HP 512GB SATA 6Gb/s SSD
GPU
NVIDIA Quadro M6000 24GB (available May-2016)
OS
Windows 10
HP Z840 Quick Specs
Processor
2x Intel® Xeon® E5-2637 v3 processor
Memory
RAM 32GB (8x4GB)
Storage
OS HP 256GB SATA 6Gb/s SSD + Data HP Z Turbo Drive Quad Pro 2x512GB PCIe SSD
GPU
2x NVIDIA Quadro M6000 24GB
OS
Windows 10