>
>
>
>
Pro CAD Graphics Cards


NVIDIA® Quadro® graphics cards are the world's most trusted for one reason. Design professionals like you count on them do their best, most important work—day in and day out.
Quadro graphics cards don't design, engineer, communicate, or create. They empower you to do all these things better. Whatever applications you use, whatever your model size and complexity, whatever views you use, Quadro helps enhance results, accelerate workflows, and maximise productivity.
Quadro
Performance
Reliability
Image Quality
Software
Learn more about how Quadro powers your work: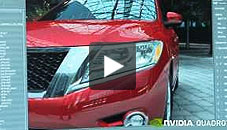 VIDEO: Watch NVIDIA Solutions for Manufacturing
Subscribe to the NVIDIA Manufacturing Newsletter.