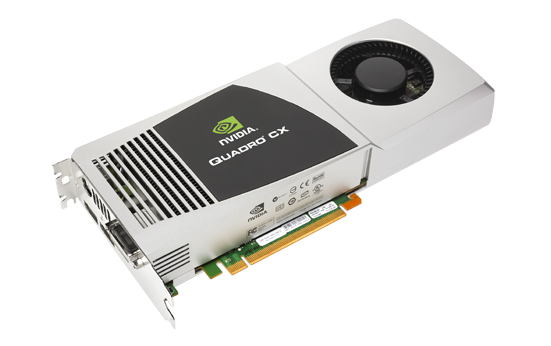 Product appearance may vary by manufacturer
NVIDIA Quadro CX
Creativity is not just your passion, it's your business. You are always under pressure to deliver more amazing content while working under tight deadlines. Now you can. The NVIDIA® Quadro® CX is the accelerator for Adobe® Creative Suite® 4—giving you the ability to create rich, stunning content in a faster, smoother, and more interactive way.


Overview
Features
Specifications

A Faster Way to Work

Don't sacrifice creativity to meet a deadline. Encode H.264 video up to 4X faster with the NVIDIA® CUDA™-enabled plug-in for Adobe® Premiere Pro CS4*. This time savings means instead of encoding Blu-ray DVDs overnight you can now do it in a few hours during the day. Plus, accelerate rendering time for advanced effects such as transformations, color correction, depth of field blur, turbulent noise, and more.
To learn more about performance click here.

A Better Way to Work

Your tools are key to your success. Experience fluid interaction with the Adobe Photoshop® canvas for smoother zooming and image rotation. Accurately see what your deliverable will look like with 30-bit color or uncompressed 10-bit/12-bit SDI before final output**. Easily work across multiple displays with NVIDIA® nView® advanced management tools for a smoother production pipeline.

A More Reliable Way to Work

You can't afford system downtime. Quadro CX is engineered and optimized by NVIDIA to ensure your system works when you need it. Quadro CX is also designed and optimized for Creative Suite 4. Plus, additional free plug-ins will deliver ongoing feature and performance improvements to maximize your investment.
*Exclusive CUDA-based RapiHD encoder is developed by Elemental Technologies and only included with Quadro CX
**Quadro CX hardware is capable of native 30-bit color DisplayPort output; SDI capability via optional Quadro SDI board and application plug-ins.
Graphics solutions and workstations built for Adobe professionals: