>
>
MEDIA ALERT! NVIDIA and Bull, Atos Technologies, help three companies get more performance from their applications on GPUs
MEDIA ALERT! NVIDIA and Bull, Atos Technologies, help three companies get more performance from their applications on GPUs
Forum Teratec - June 23, 2015 - In October 2014, NVIDIA and Bull, Atos Technologies together, launched a call for projects to help scientists accelerate their applications on NVIDIA GPUs. Scientists, researchers from public labs or innovative private companies were invited to submit their projects – and maybe win an assistance package to port their application to GPU accelerators.
Thanks to the support provided by Bull and NVIDIA, the winners will be able to port their code to GPU accelerators. Experts from the Center for Excellence in Parallel Programming will help them optimize and scale their existing GPU code, analyse and remove hot spots and tune their code on the latest generation of Tesla GPU accelerators.
Out of the many participating companies, three were chosen as exceptional examples of the benefits that can be derived from the massively parallel architecture of NVIDIA GPUs. The following three companies each received a free assistance package offered by Bull and NVIDIA: Dassault Aviation, the French aircraft manufacturer, Onera, the French aerospace research center, and Coria, a French research center with a focus on aerothermochemistry.
For Dassault Aviation, the accurate prediction of aircraft aeroelastic behavior (i.e. vibrations) is a requirement for aircraft design work. This is particularly the case in the transonic regime, where shock waves appear and disappear due to aircraft motions, and global aerodynamic properties can vary significantly. To tackle this problem, Dassault Aviation has developed and validated over the years a simulation-based strategy, which relies on AeTHER, its in-house Computational Fluid Dynamics software. Dassault Aviation hopes that GPUs will help shorten the run time of aeroelastic analyses, making them more readily available to aircraft designers.
The Onera project concerns the porting of an existing Fluid Dynamics Software for aeronautical flows. Their application allows engineers to simulate wakes for wings, fins, helicopter blades and helps to study the possible loss of lift* in flight. A 2D version of this GPU software has already been developed using the NVIDIA-powered ROMEO HPC center at the University of Champagne-Ardennes. ONERA now wants to focus on the scalability of the 3D version of their method for grids comprising billions of cells, for which Atos and NVIDIA expert advice would help.
* Lift is the force that allows an aircraft to rise and remain aloft.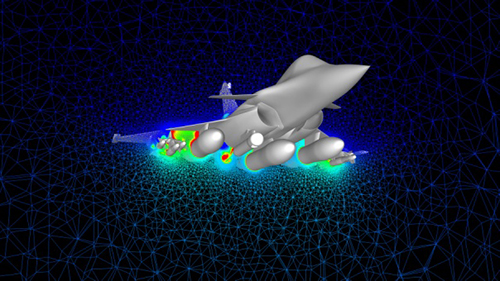 Complex flow structures generated by a Rafale fighter aircraft with external stores,
as captured in a section through the CFD unstructured mesh. © Dassault Aviation.
Coria wants to optimize engine design, with a view especially to reduce the emission of pollutants. The Yales2 solver developed at CORIA is a research code designed to model turbulent combustion which occurs in many applications (aeronautical engines, automotive industry, industrial furnaces …). It aims at solving two-phase combustion from fuel atomization to pollutant prediction. The challenge will be to help CORIA to solve large linear systems (>1e9 Degrees Of Freedom) and ill-balanced problems on GPUs in order to accelerate them.
"The Bull Center for Excellence in Parallel Programming (CEPP) is very excited to contribute to these three projects and help them to utilize the performance of GPUs. Highly parallel system architectures offer a tremendous potential for research and innovation, provided applications can fully leverage their computing power" said Xavier Vigouroux, CEPP Manager, Big Data & Securité, Atos.
"We are proud to leverage the expertise from Bull's Center for Excellence in Parallel programming (CEPP) with the one from NVIDIA in order to bring these 3 strategic CFD applications to a new level of performance thanks to the NVIDIA GPU" said Walter Mundt-Blum, VP Enterprise EMEAI, NVIDIA.
About Bull, Atos technologies for the digital transformation
Bull is the Atos brand for its technology products and software, which are today distributed in over 50 countries worldwide. With a rich heritage of over 80 years of technological innovation, 2000 patents and a 700 strong R&D team supported by the Atos Scientific Community, it offers products and value-added software to assist clients in their digital transformation, specifically in the areas of Big Data and Cybersecurity.
Bull is the European leader in HPC and its products include bullx, the energy-efficient supercomputer; bullion, one of the most powerful x86 servers in the world developed to meet the challenges of Big Data; Evidian, the software security solutions for identity and access management; Trustway, the hardware security module and Hoox, the ultra-secure smartphone. Bull is part of Atos.
For more information: www.bull.com, www.atos.net.
About NVIDIA
Since 1993, NVIDIA (NASDAQ: NVDA) has pioneered the art and science of visual computing. The company's technologies are transforming a world of displays into a world of interactive discovery — for everyone from gamers to scientists, and consumers to enterprise customers. More information at //www.nvidia.co.uk/page/press_room.html and //blogs.nvidia.com.
Certain statements in this media alert including, but not limited to, statements as to: the features, benefits, performance, impact and availability of NVIDIA SHIELD entertainment device and the NVIDIA GRID game-streaming service; the way mobile-cloud will transform television; the demand for a smart TV experience; the impact of a new NVIDIA technology enabling instant capture and encoding of game frames; and the benefit of Tegra X1 are forward-looking statements that are subject to risks and uncertainties that could cause results to be materially different than expectations. Important factors that could cause actual results to differ materially include: global economic conditions; our reliance on third parties to manufacture, assemble, package and test our products; the impact of technological development and competition; development of new products and technologies or enhancements to our existing product and technologies; market acceptance of our products or our partners' products; design, manufacturing or software defects; changes in consumer preferences or demands; changes in industry standards and interfaces; unexpected loss of performance of our products or technologies when integrated into systems; as well as other factors detailed from time to time in the reports NVIDIA files with the Securities and Exchange Commission, or SEC, including its Form 10-Q for the quarterly period ended October 26, 2014. Copies of reports filed with the SEC are posted on the company's website and are available from NVIDIA without charge. These forward-looking statements are not guarantees of future performance and speak only as of the date hereof, and, except as required by law, NVIDIA disclaims any obligation to update these forward-looking statements to reflect future events or circumstances.
###
© 2015 NVIDIA Corporation. All rights reserved. NVIDIA, the NVIDIA logo, NVIDIA SHIELD, Tegra, NVIDIA GRID, GeForce, GTX, Maxwell and GameStream are trademarks and/or registered trademarks of NVIDIA Corporation in the U.S. and other countries. Android is a trademark of Google Inc. Other company and product names may be trademarks of the respective companies with which they are associated. Features, pricing, availability and specifications are subject to change without notice.