>
>
>
>
NVIDIA Jetson TK1 Embedded Development Kit
JETSON TK1
Unlock the power of the GPU for embedded systems applications


EOL Notice: NVIDIA will discontinue shipments of Jetson TK1 developer kits by the end of April 2018. They may continue to be available from distributors past that date, based upon remaining inventory.
The NVIDIA Jetson TK1 developer kit gives you everything you need to unlock the power of the GPU for embedded systems applications.
It's built around the revolutionary NVIDIA Tegra® K1 SoC and uses the same NVIDIA Kepler™ computing core designed into supercomputers around the world. This gives you a fully functional NVIDIA CUDA® platform for quickly developing and deploying compute-intensive systems for computer vision, robotics, medicine, and more.
NVIDIA delivers the entire BSP and software stack, including CUDA, OpenGL 4.4, and Tegra-accelerated OpenCV. With a complete suite of development and profiling tools, plus out-of-the-box support for cameras and other peripherals, NVIDIA gives you the ideal solution for helping shape the future of embedded on our Jetson Embedded Portal.
KIT CONTENTS
Tegra K1 SOC

NVIDIA Kepler GPU with 192 CUDA Cores
NVIDIA 4-Plus-1™ Quad-Core
ARM® Cortex™-A15 CPU

2 GB x16 Memory with 64-bit Width
16 GB 4.51 eMMC Memory
1 Half Mini-PCIE Slot
1 Full-Size SD/MMC Connector
1 Full-Size HDMI Port
1 USB 2.0 Port, Micro AB
1 USB 3.0 Port, A
1 RS232 Serial Port
1 ALC5639 Realtek Audio Codec with Mic
In and Line Out
1 RTL8111GS Realtek GigE LAN
1 SATA Data Port
SPI 4 MByte Boot Flash
The following signals are available
through an expansion port:
DP/LVDS
Touch SPI 1x4 + 1x1 CSI-2
GPIOs
UART
HSIC
i2c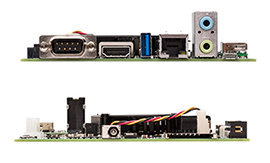 DEVELOPER TOOLS FOR EMBEDDED DEVELOPMENT
Take advantage of an end-to-end platform for the development and deployment of advanced embedded products, including a developer kit, tools, a developer portal, community, support, training, and product design packages.