VISIT US
Rai Amsterdam
Booth #7.B17

Friday, September 7
10.30 am – 6 pm

Saturday, September 8
9.30 am – 6 pm

Sunday, September 9
9.30 am – 6 pm

Monday, September 10
9.30 am – 6 pm

Tuesday, September 11
9.30 am – 4 pm
FOLLOW US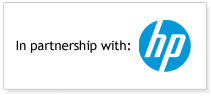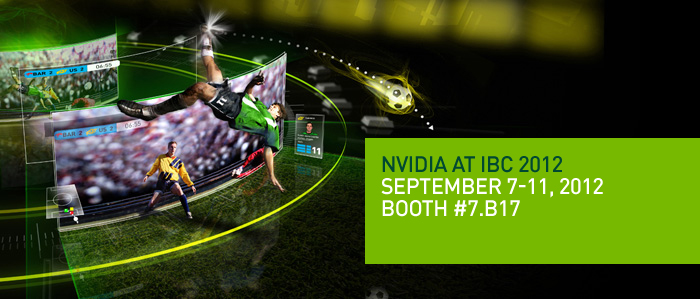 NVIDIA will be demonstrating both on-premise and cloud-based GPU accelerated solutions for broadcasters, post production professionals and independent film makers—all based on NVIDIA® Quadro® and Tesla® professional solutions. NVIDIA GPUs are widely accepted as the most advanced platform for graphics and parallel processing, powering innovative solutions from more than 150 industry-leading companies, including Adobe, Autodesk, Avid, Chyron, Elemental Technologies, GenArts, VizRT, and more.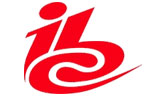 Have questions about NVIDIA GPUs?
Stop by the NVIDIA genius bar in the booth and get your questions answered by an expert or simply email us at mediafeedback@nvidia.com.
EVERYWHERE AT IBC 2012
On-Air Graphics
Partner
Booth #
Brainstorm Multimedia
2.B59
Chyron
7.D11
Dayang Technology Development Inc.
7.B35
Grass Valley
1.D11
Harris
7.G20
Hego
6.C19
MeteoGraphics
2.C48
Miranda Technologies
8.D41
NewTek
7.K11
Orad Hi-Tec Systems
7.B27
Pixel Power LTD
7.A31
Ross Video Ltd
9.C10
Vizrt
7.A10
WASP3D
3.B62
Weather Central LP
3.B61
Weather Services International
2.C19
System Provider and Hardware Partners
Partner
Booth #
ARRI
11.F21
B & H Photo, Video, Pro Audio
10.A01
Christie
9.C30
Evertz
8.B40
JMR Electronics
7.F06
Red Digital Cinema
3.A55
Ultimatte Corporation
7.B25
Modeling and Animation
Partner
Booth #
Autodesk
7.D25
Maxon Computer GmbH
6.C10
Editing, Compositing, and Effects
Partner
Booth #
Adobe Systems Inc.
7.G27
ASSIMILATE
7.H11
Autodesk
7.D25
Avid
7.J20
Binocle
11.F61c
Blackmagic Design
7.H20
Boris FX / Media 100
7.G44
Cinegy
7.A30
Digital Vision
7.E30
Filmlight
7.F31
Lightcraft Technology
9.A01
Marquise Technologies
7.H03
Quantel
7.A20
SGO
6.A11
Sony
12.A10
The Foundry Visionmonger Ltd.
7.B21
The Pixel Farm
6.C18
Video I/O
Partner
Booth #
AJA Video
7.F11
Blackmagic Design
7.H20
Bluefish444
7.J07
DELTACAST.TV
10.D10
DVS Digital Video Systems GmbH
7.E25
Matrox Electronic Systems
7.B29
Encoding, Decoding, and QC
Partner
Booth #
AmberFin
7.J39
Digimetrics
7.G45
Elemental Technologies Inc.
7.D25
Telestream
7.D16