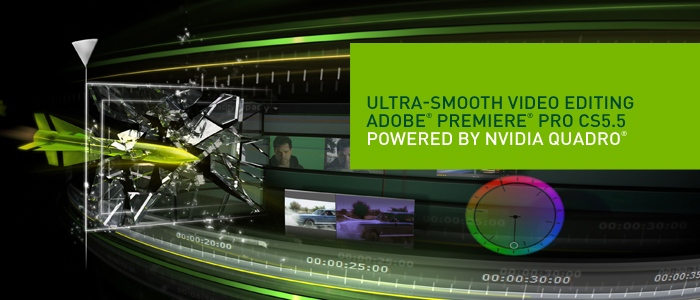 Unleash your creativity in the editing suite.


Whether you are producing independent films, editing stories for broadcast or working on corporate videos, odds are you're under tight deadlines and stringent budget constraints. With NVIDIA® Quadro® graphics solutions and Adobe Premiere® Pro CS5.5, your editing time can be drastically reduced without sacrificing quality, and at a fraction of the cost of proprietary post production systems.

At the heart of Premiere Pro CS5.5 is the Adobe Mercury Playback Engine, built using the NVIDIA CUDA parallel processing architecture. Accelerated by both Quadro and NVIDIA Tesla graphics cards, you get real-time previewing and editing of native, high-resolution footage, including multiple layers of RED 4K video.

With a wide selection of solutions now available, including the new NVIDIA Maximus configurations available from leading systems providers that feature both Quadro and Tesla GPUs in a single workstation, you can get maximum effects, rendering power and fluid, real-time video editing from a range of platforms and feel confident to work your magic in front of any client.
NVIDIA MAXIMUS TECHNOLOGY
New NVIDIA Maximus powered workstations deliver the fastest effects and most fluid Adobe Premier Pro workflows possible. These innovative workstations allow Premier Pro to harness not only the graphics capability of Quadro graphics cards, but also the tremendous parallel processing power of Tesla GPUs.
For more information and updates, including availability from Dell, HP and Lenovo, visit the Maximus workstation page.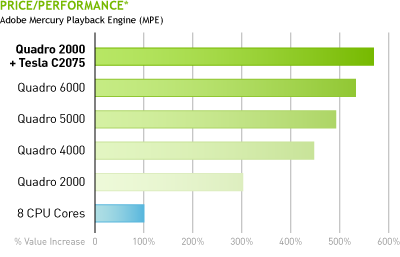 Faster Editing.

Get 15 times faster performance, enabling you to refine and apply multiple color corrections and effects in SD, HD, 2K, and higher-resolutions, with smooth scrubbing and playback – all in real-time!
Get even more NVIDIA® GPU-accelerated effects such as; fast blur effect, film dissolve transition and accelerated media preparation.
With 6 GB of graphics memory, the Quadro 6000 enables you to build projects using complex, raw, 4K RED footage.
Experience rich, vivid image quality with 30-bit color fidelity.
More Options.

Take advantage of Premiere Pro CS5.5 from a full range of platforms, including mobile and desktop workstations, desktop PCs and Apple Mac Pro.
Immerse yourself in a true stereoscopic 3D, collaborative visualization experience, and see remarkable detail with NVIDIA® 3D Vision™ Pro solutions and Cineform Neo3D.
Span across multiple ultra-high resolution displays, including SDI monitors and projectors.*
* SDI available with Quadro GPUs and either Quadro Digital Video Pipeline solutions or third party SDI products that use NVIDIA GPUDirect for Video technology. Check with your preferred SDI board manufacturer to confirm support.
Leading industry experts discuss how you can unlock the power of Adobe Creative Suite 5.5 with NVIDIA GPUs. Learn how to boost overall productivity in the production room with Premiere Pro, After Effects, and more.
Learn More
Featured GPU-Accelerated Adobe Plugins