What will you do with more time?
With the NVIDIA® CUDA™ enabled plug-in for Adobe® Premiere® Pro CS4 including with Quadro® CX, video professionals can now save not only minutes but hours from your DVD H.264 video encoding time. Video files that would previously take you over a day to encode can now be done in about a quarter of the time while maintaining quality. Leaving you with only one question - what will you do with all that extra time?
Here is an example of a project and some of the results we've found.
As you can see from the chart below the CUDA-enabled plug-in coupled with the Quadro CX is up to 4X faster than the standard media encoder.
One Hour HDV Video Encoded to H.264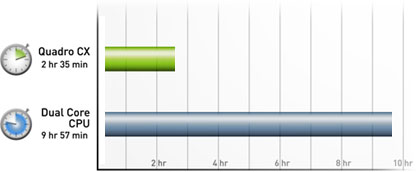 Note: Shorter times are better
Project and Settings
We created a 1440x1080 @ 29.97fps Adobe® Premiere® Pro CS4 project running 1:18:20 in length. Using a dual core CPU system, we have compared the performance of the standard H.264 media encoder included with Premiere Pro CS4 with the CUDA-enabled video encoding plug-in to convert this project into a 1920x1080@29.97 H.264 file.

In the standard media encoder these settings can be found in the pre-sets using

For the CUDA-enabled RapiHD™ Plug-in tests the settings are in the presets

Format:
H.264 Blu-ray
Format:
ETI RapiHD™
Preset:
HDTV 1080i@29.97 High Quality
Preset:
HDTV 1080i@29.97
These settings are identical. Both use VBR 1 pass, target 25,000 Kbps, High Profile, and level 4.1.