NVIDIA Corporation:
Adam Foat Product PR Manager, UK and Northern Europe
NVIDIA Ltd
afoat@nvidia.com
+44 (0)118 903 3019
Press Relations:
Niki Hutchinson
Liberty Marketing Communications
Tel: +44 (0)20 7751 4444
niki@libertycomms.com
FOR IMMEDIATE RELEASE
NVIDIA® Preface™ Platform Enables Windows Vista On The Go
CES "Best of Innovations" Winner Extends Windows SideShow Capabilities to Bluetooth-Enabled Wireless Devices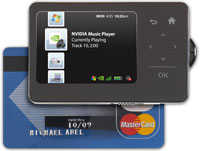 CES 2007—LAS VEGAS, NV—JANUARY 8, 2007—NVIDIA Corporation (Nasdaq: NVDA) today announced the latest version of its Preface Personal Media Display platform, a secondary processor and display subsystem that enables users to access information from their notebook or PC even when the main system is powered down. This latest version of NVIDIA Preface platform delivers wireless capabilities to the platform for manufacturers of handheld devices who want to provide customers the full benefits of Windows SideShow, a new feature of Windows Vista, while on the move.
Chosen as a CES Innovations Honoree for 2007, NVIDIA Preface provides notebook PC users running Windows SideShow with "always-on" access to e-mail, calendars, maps, and other data via a secondary display—even when the notebook is powered down. Notebooks with in-lid secondary displays and keypads based on NVIDIA Preface are expected to hit the market early this year.
The new extensions to NVIDIA Preface platform support Bluetooth wireless communication, which will allow Windows Vista PC users to access their data from companion devices. This capability, combined with the thin, low-power design of the NVIDIA Preface platform, opens the door to a wide variety of form factors, including:
Credit card-sized devices with a 2.5-inch display
Gaming companion devices with 3.5-inch or larger displays
Media Center SideShow-enabled remote controls with Bluetooth and consumer IR technology
Integration into backpacks, carrying cases, and clothing
Such devices combine the benefits of portable consumer electronics devices with the versatile mobile computing features of Windows Vista, significantly enriching the evolving mobile and in-home consumer lifestyle.
"Windows SideShow and the NVIDIA Preface platform with Bluetooth are linking consumer electronics and PCs together like never before," said John Milner, general manager of personal media processors at NVIDIA Corporation. "As a result, both market segments can enjoy a new range of possibilities for delivering convenience, connectivity, and entertainment value to consumers."
SideShow devices communicate with the main PC via mini-applications called gadgets, which retrieve critical data from hard drives or online information sources. Several gadgets are expected to ship with Windows Vista, with many more available for download on the Microsoft Gadget Web site or pre-installed by the PC OEM or system builder. The NVIDIA Preface platform also includes native SideShow gadgets that interoperate with the built-in Music Player and Picture Viewer, both of which can operate even when the host PC is powered down.
"We're excited about the tremendous support and enthusiasm NVIDIA is providing for Windows Vista at this year's Consumer Electronics Show," said Brad Goldberg, general manager for Windows Client at Microsoft Corp. "By working closely together, we are helping to provide technologies that will connect, entertain, and hopefully surprise people by how easy this next generation of computing makes their lives."
Editors' Note: To arrange a meeting at CES, contact Kimberley Stowe Hoffman at (408) 768-1097 or email kimberley.stowe@portalplayer.com
About NVIDIA
NVIDIA Corporation is the worldwide leader in programmable graphics processor technologies. The Company creates innovative, industry-changing products for computing, consumer electronics, and mobile devices. NVIDIA is headquartered in Santa Clara, CA and has offices throughout Asia, Europe, and the Americas. For more information, visit www.nvidia.co.uk.