NVIDIA Corporation:
Adam Foat Product PR Manager, UK and Northern Europe
NVIDIA Ltd
afoat@nvidia.com
+44 (0)118 903 3019
Press Relations:
Niki Hutchinson
Liberty Marketing Communications
Tel: +44 (0)20 7751 4444
niki@libertycomms.com
FOR IMMEDIATE RELEASE
NVIDIA Launches Reseller Programme for UK Channel
PartnerForce initiative provides benefits to UK resellers and system builders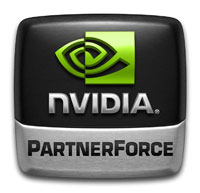 THEALE, UK—NOVEMBER 27 2006—NVIDIA Corporation (Nasdaq: NVDA), the worldwide leader in programmable graphics processor technologies, today announced the launch of PartnerForce, its new global reseller programme.
PartnerForce is aimed at the thousands of independent UK resellers and system builders handling NVIDIA products. By developing more effective relationships with this section of the channel through PartnerForce, the company aims to deliver the best pricing, marketing and technical support to resellers and so grow their business.
From today, UK resellers can sign up to the PartnerForce portal online at www.nvidia.co.uk/partnerforce. PartnerForce does not require any financial commitment or formal accreditation from resellers – in return for adhering to the terms and conditions of the initiative, resellers will receive a retail merchandising kit on joining and ongoing marketing and technical support through the PartnerForce web portal and the NVIDIA Sales Centre. Members will also have the opportunity to benefit from the best pricing and latest hardware and software bundles.
Chris Ayres, NVIDIA's Channel Marketing Manager for Europe, the Middle East, Africa and India (EMEAI), explains: "PartnerForce addresses the needs of the channel by creating a mutually beneficial relationship which supports resellers and system builders in driving sales of NVIDIA products. There are a number of key enablers which will continue to affect the market over the next few months. Microsoft Windows Vista in particular will create a major discontinuity in the PC market and to maximise the potential of this event it's vital the channel understands that Vista requires a GPU for the best user experience. The PartnerForce portal will provide the information and tools resellers need to convert this opportunity into sales."
"PartnerForce will provide me with support and information that I can immediately use to enhance my sales efforts and grow revenues," comments Paul Fryer of Alpine Computer Systems in Plymouth, UK. "It's an exciting time for the channel and by helping to develop lasting relationships between NVIDIA and the channel, PartnerForce will put member resellers in an excellent position to maximise the market potential of important enablers like Windows Vista, HD (high definition) video and gaming, and NVIDIA's latest technology."
To learn more about the PartnerForce programme, please go to www.nvidia.co.uk/partnerforce.
About NVIDIA
NVIDIA Corporation is the worldwide leader in programmable graphics processor technologies. The Company creates innovative, industry-changing products for computing, consumer electronics, and mobile devices. NVIDIA is headquartered in Santa Clara, CA and has offices throughout Asia, Europe, and the Americas. For more information, visit www.nvidia.co.uk.