NVIDIA Corporation:
Adam Foat Product PR Manager, UK and Northern Europe
NVIDIA Ltd
afoat@nvidia.com
+44 (0)118 903 3019
Press Relations:
Niki Hutchinson
Liberty Marketing Communications
Tel: +44 (0)20 7751 4444
niki@libertycomms.com
FOR IMMEDIATE RELEASE
NVIDIA® GPUs and Chipsets Deliver Stunning Graphics in New Packard Bell Notebooks
Select Packard Bell EasyNote Series notebooks powered by NVIDIA GeForce® GPUs and nForce® Chipsets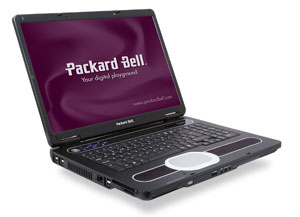 THEALE, UK— OCTOBER 27, 2006—NVIDIA Corporation (Nasdaq: NVDA), the worldwide leader in programmable graphics processor technologies, today announced that NVIDIA GeForce graphics processing units (GPUs) and nForce chipsets will be featured in new Packard Bell EasyNote series notebooks, delivering stunning visuals for movies, photos and games. The models with NVIDIA GeForce GPUs and nForce available in the UK are:
EasyNote SW51
17'' Widescreen Display with Diamond View Technology
AMD Turion 64 X2 Dual Core processor
NVIDIA GeForce Go 6100 GPU and nForce Go 430 chipset
Essential features: Wi-Fi, TV out, 4 X USB, headphone out, optical S/PDIF
EasyNote MV51
15.4'' Widescreen Display with Diamond View Technology
AMD Turion 64 X2 Dual Core processor
NVIDIA GeForce Go 6100 GPU and nForce Go 430 chipset
Essential features: Wifi, TV out, 4 X USB, headphone out light SPDIF
The NVIDIA GeForce GPUs and nForce MCPs feature technology designed to improve the mobile computing experience:
Support for DirectX 9.0 Shader Model 3.0, for more realism in 3D games and applications
NVIDIA PureVideo™ technology, delivering unprecedented picture clarity, smooth video and accurate colour for home-theatre quality high-definition video on a notebook PC
High-performance 3D architecture built for Microsoft Windows Vista— the industry's first operating system to require a GPU to realise its full potential
NVIDIA PowerMizer® technology for reduced power consumption and less heat generation enabling cooler and smaller notebooks with increased battery life.
"Packard Bell notebooks with NVIDIA graphics technology will deliver a stunning visual experience, whichever model consumers choose," explained Serge Palaric, NVIDIA's manager of notebook business in Europe, the Middle East and Africa (EMEA) and India. "By selecting a notebook with an NVIDIA GPU, users will be ready to enjoy the features of Windows Vista, Microsoft's next generation operating system."
Louis Perrin, sales and marketing director, mobility business unit at Packard Bell, continued: "The expanded EasyNote range means that customers can select one that perfectly matches their needs in the home, office or schoolroom. Because graphics play a key role in almost every PC application, NVIDIA GeForce GPUs are an essential feature for every user to get the most from their notebook."
Notebook availability
These Packard Bell EasyNote notebooks with NVIDIA GPUs are available in UK retail outlets, starting at an estimated retail price of £640. For more information, please visit //www.nvidia.co.uk/page/mobile.html or www.packardbell.com.
About NVIDIA
NVIDIA Corporation is the worldwide leader in programmable graphics processor technologies. The Company creates innovative, industry-changing products for computing, consumer electronics, and mobile devices. NVIDIA is headquartered in Santa Clara, CA and has offices throughout Asia, Europe, and the Americas. For more information, visit www.nvidia.co.uk.
About Packard Bell
Operating in Europe since 1991, Packard Bell is the number one home PC brand in Belgium, France, the Netherlands and the UK (Source: IDC – January 2005). As consumers have become more tech savvy and discerning, and the world of personal computers and home electronics have converged, Packard Bell has continued to extend its brand and expand its range of products, which today includes leading-edge desktops, notebooks and digital entertainment solutions (MP3 players, video players/recorders, home networking, flat-panel TVs, GPS and storage). Packard Bell's unswerving dedication to the consumer market is embodied in its recognised ability to anticipate and meet the ever-changing users' needs.
Certain statements in this press release including, but not limited to, the features, uses, capabilities and performance of NVIDIA products and technologies and EasyNote notebooks incorporating NVIDIA products and technologies as well as statements regarding Windows Vista are forward-looking statements that are subject to risks and uncertainties that could cause results to be materially different than expectations. Important factors that could cause actual results to differ materially include: difficulties in the development of new and enhanced products; delays in ramping new products into production; loss in performance when products are integrated; market or customer acceptance of a competitor's product instead of ours; software or manufacturing defects; the impact of technological development and competition; general industry trends; changes in industry standards and interfaces as well as other factors detailed from time to time in the reports NVIDIA files with the Securities and Exchange Commission including its Form 10-Q for the quarter ended April 30, 2006. Copies of reports filed with the SEC are posted on our website and are available from NVIDIA without charge. These forward-looking statements are not guarantees of future performance and speak only as of the date hereof, and, except as required by law, NVIDIA disclaims any obligation to update these forward-looking statements to reflect future events or circumstances.