NVIDIA Corporation:
Adam Foat Product PR Manager, UK and Northern Europe
NVIDIA Ltd
afoat@nvidia.com
+44 (0)118 903 3019
Press Relations:
James Delves
Wildfire PR
Tel: +44 (0)20 8339 4426
nvidia@wildfirepr.co.uk
FOR IMMEDIATE RELEASE
NVIDIA Powers World's First DVB-H- Based Mobile TV Cell Phones
NVIDIA® GoForce™ Handheld Technology Powers Global Mobile TV Roll-Outs Enabling a New Viewing Experience for Consumers
THEALE, UK—SEPTEMBER 11, 2006—NVIDIA Corporation (Nasdaq: NVDA), the worldwide leader in programmable graphics processor technologies, today announced that its NVIDIA GoForce handheld graphics processing units (GPUs), are powering some of the world's first mobile TV production roll-outs.
DVB-H, or Digital Video Broadcasting for handheld devices, delivers digital broadcast quality TV to your mobile phone. NVIDIA GoForce handheld GPUs provide hardware acceleration for Mobile TV, delivering higher quality visuals than devices using only software, and with less drain on the battery thanks to innovative power saving technologies employed by the GPU.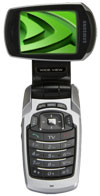 The first devices to launch were the Samsung P910 and P920 handsets in Italy, and soon to be available in the US is the Forseer device, designed and manufactured by HTC, and coming to market with Modeo, a subsidiary of Crown Castle International.
Launched first in Italy shortly before the commencement of the 2006 World Cup, 3G operators '3' and TIM, rolled out the Samsung P910 and Samsung P920 respectively. Based on the same core technology and both incorporating the NVIDIA GoForce 5500 handheld GPU, the handsets resemble clamshell designs, however once opened, the screens can be rotated 90 degrees to allow for a more natural angle for television viewing.

During 2005, Modeo successfully piloted its DVB-H mobile broadcast network in Pittsburgh. Modeo plans to launch completed DVB-H networks during 2006 in select major US markets, including New York City. Modeo is currently working on a nationwide deployment of its network to the top 30 US markets, with launches targeted throughout 2007.
IDC has predicted that around 24 million US mobile users will be paying for some form of TV/Video content and services on their mobile devices by 2010, up from 7 million this year.
"Although our research found penetration of these services isn't likely to exceed 10% of all subscribers by 2010, video/TV services are poised to become a significant contributor to carrier data ARPU while emerging as a hotbed for community-oriented interaction and interesting advertising experiments," said Lewis Ward, research manager in IDC's Wireless and Mobile Communications program.
"The successful roll out of DVB-H in Italy illustrated a strong demand for mobile TV and video services, and these early indicators suggest that these high levels of adoption and usage will be reflected in many other markets around the world," said Michael Rayfield, general manager of the handheld business unit at NVIDIA. "Many of our customers are seeing the significant benefits of using a hardware accelerated solution to drive DVB-H content on devices, and our successful deployment of GoForce technology into these key global trials is testament to that."
For more information on NVIDIA's handheld products, please visit: //www.nvidia.co.uk/page/handheld.html
NVIDIA Corporation NVIDIA Corporation is the worldwide leader in programmable graphics processor technologies. The Company creates innovative, industry-changing products for computing, consumer electronics, and mobile devices. NVIDIA is headquartered in Santa Clara, CA and has offices throughout Asia, Europe, and the Americas. For more information, visit www.nvidia.co.uk.
Certain statements in this press release including, but not limited to, the features, benefits, capabilities and performance of NVIDIA GoForce handheld GPUs, availability of handheld devices in the US, the first mobile TV to launch in the US, the services to come from Modeo, the number of US mobile users that will pay for TV/Video content and services by 2010, and the adoption of mobile TV and video services in markets around the world are forward-looking statements that are subject to risks and uncertainties that could cause results to be materially different than expectations. Important factors that could cause actual results to differ materially include: delays in ramping new products into production; difficulties in the development of new and enhanced products; loss in performance when products are integrated; market or customer acceptance of a competitor's product instead of ours; manufacturing and other delays; slower than anticipated adoption of an industry standard; changes in customer demand for these products; development of a more efficient or better solution to drive DVB-H content on handheld devices, defects in our products or the components of a product; the impact of technological development and competition; changes in industry standards and interfaces as well as other factors detailed from time to time in the reports NVIDIA files with the Securities and Exchange Commission including its Form 10-Q for the quarter ended April 30, 2006. Copies of reports filed with the SEC are posted on our website and are available from NVIDIA without charge. These forward-looking statements are not guarantees of future performance and speak only as of the date hereof, and, except as required by law, NVIDIA disclaims any obligation to update these forward-looking statements to reflect future events or circumstances.