NVIDIA Corporation:
Adam Foat Product PR Manager, UK and Northern Europe
NVIDIA Ltd
afoat@nvidia.com
+44 (0)118 903 3019
Press Relations:
James Delves
Wildfire PR
Tel: +44 (0)20 8339 4426
nvidia@wildfirepr.co.uk
FOR IMMEDIATE RELEASE
NVIDIA® Broadcast Solutions Take Center Stage at NAB2006 in Las Vegas
Powerful New NVIDIA Quadro® FX 5500 SDI Solution Showcased with Industry-Leading Graphics and Video Solutions
SANTA CLARA, CA—APRIL 20, 2006—NVIDIA Corporation (Nasdaq: NVDA), the worldwide leader in programmable graphics processor technologies, today announced the NVIDIA Quadro FX 5500 SDI solution, the new flagship product in the Company's line of fully integrated graphics-to-video solutions. NVIDIA and its many partners will demonstrate a number of standardised broadcast solutions during NAB2006 in Las Vegas, April 24-28, including the delivery of uncompressed SDI output to create real-time 3D for broadcast.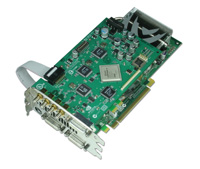 "The NVIDIA Quadro FX 5500 SDI solution is at the heart of our real-time 3D solutions for broadcast," said Christian Huber, Head of Operations at Vizrt, Austria. "We rely on color accuracy and exceptional visual quality to deliver truly memorable effects, letting our customers get their messages across instantly."
NVIDIA Quadro SDI products generate and output standard and high-definition television content in real time and can enhance live broadcast programming with a range of content—from 3D effects to full-blown virtual sets for news, sports, and weather. The latest generation NVIDIA Quadro 5500 SDI solution includes 1GB of dedicated graphics memory and leverages the most powerful programmable graphics processing unit available.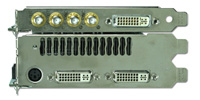 "Adobe is excited by the fidelity, performance and integration achieved by the NVIDIA Quadro FX 5500 SDI with its After Effects plug-in" said Simon Hayhurst, director of product management at Adobe. "This solution allows Adobe Production Studio to deliver the industry leading integration, performance and quality our broadcast and postproduction customers demand for their non-linear editing, compositing, effects and color-grading."
Also showcased at NAB2006 are the NVIDIA Quadro FX 560 and the NVIDIA Quadro FX 1500 solutions, the latest mid-range offerings to support HD Video output. Both products allow users to preview content in real time on an HD confidence monitor and feature 256MB of onboard graphics memory with dual-link support to drive the new ultra-high resolution (WQXGA) 30" panels, which are quickly gaining popularity with HD video editors. HD is transforming the film, video and broadcast industries, and these new NVIDIA Quadro graphics solutions are designed to help users rapidly make the transition from SD to HD.
NVIDIA Quadro SDI solutions output uncompressed SDI in 2K, HD or SD formats on Windows and Linux and have been certified, qualified, or integrated by a number of independent software vendors serving the broadcast industry, including Adobe, ASSIMILATE, Autodesk, Brainstorm, DaVinci, IRIDAS, Nixus, Nucoda, PVI, Sonic Solutions, Sportvision, Ultimatte, Vizrt and Weather Central.
NVIDIA Quadro FX GPU based products are available through PNY Technologies (US and EMEA), Leadtek (APAC), and ELSA Japan (Japan). For more information on these and other NVIDIA Quadro products, please visit www.nvidia.co.uk/quadro.
About NVIDIA
NVIDIA Corporation is a market leader in visual computing technology dedicated to creating products that enhance the interactive experience on consumer and professional computing platforms. Its graphics and communications processors have broad market reach and are incorporated into a wide variety of computing platforms, including consumer digital-media PCs, enterprise PCs, professional workstations, digital content creation systems, notebook PCs, military navigation systems and video game consoles. NVIDIA is headquartered in Santa Clara, California and employs more than 2,000 people worldwide. For more information, visit the Company's Web site at www.nvidia.co.uk.
Certain statements in this press release, including any statements relating to the Company's performance expectations for NVIDIA's family of products and expectations of continued revenue growth, are forward-looking statements that are subject to risks and uncertainties that could cause results to be materially different than expectations. Such risks and uncertainties include, but are not limited to, manufacturing and other delays relating to new products, difficulties in the fabrication process and dependence of the Company on third-party manufacturers, general industry trends including cyclical trends in the PC and semiconductor industries, the impact of competitive products and pricing alternatives, market acceptance of the Company's new products and the Company's dependence on third-party developers and publishers. Investors are advised to read the Company's Annual Report on Form 10-K and quarterly reports on Form 10-Q filed with the Securities and Exchange Commission, particularly those sections entitled "Certain Business Risks," for a fuller discussion of these and other risks and uncertainties.
# # #
Copyright © 2006 NVIDIA Corporation. All rights reserved. All company and/or product names may be trade names, trademarks and/or registered trademarks of the respective owners with which they are associated. Features, pricing, availability and specifications are subject to change without notice.
Note to editors: If you are interested in viewing additional information on NVIDIA, please visit the NVIDIA Press Room at //www.nvidia.co.uk/page/press_room.html.