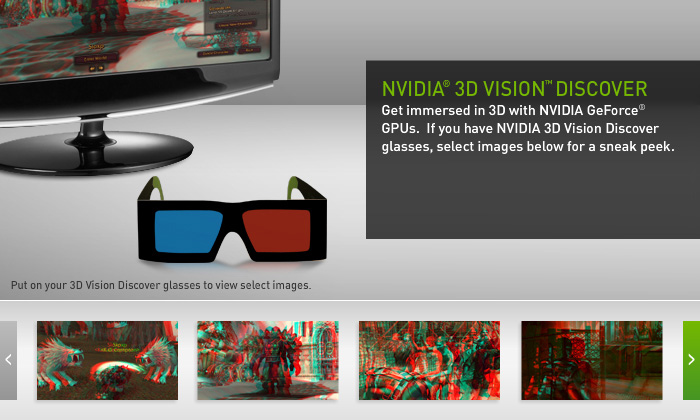 Immerse yourself in a world where games, movies, and photos come to life on screen in eye-popping 3D. Now you can discover amazing stereoscopic 3D on your Microsoft Windows 7 or Windows Vista PC with your NVIDIA® GeForce® GPUs. NVIDIA 3D Vision™ Discover is a complete, low cost solution to start your immersive stereoscopic 3D experience that includes:
Custom-designed, specialized anaglyph (red/cyan) glasses
NVIDIA software to transform over 350 standard PC games into full 3D
NVIDIA 3D Movie and Video player software, along with free downloads of 3D movies, pictures, and game previews directly to your PC
GET STARTED
GET YOUR GLASSES

NVIDIA 3D Vision Discover will be available at the following locations:

Bundled with NVIDIA GeForce® GPUs from participating etailers and authorized board partners
Available at upcoming tradeshows and events

ARE YOU READY?

Make sure your PC is setup to begin your immersive 3D experience:
Want More?
If you enjoyed 3D Vision Discover, upgrade to the NVIDIA 3D Vision wireless active shutter glasses for the absolute highest quality 3D experience in high definition, full color fidelity, and incredible depth.
Learn more